General Information
Knebworth Dog Training Club was founded in 1978 by Pete Miles & Julie Jones.
Julie has been involved with dogs since the age of 11. At the age of 19 Julie became an obedience champion, being the youngest handler to win at crufts obedience.
We aim to provide good basic training for puppies & adults, providing a happy & relaxed atmosphere for both dog and handler.
Our experienced trainer Julie Jones keeps up to date with modern methods of training, ensuring that our members always receive the best possible service for both pet and competition training needs.
Our most recent dogs are getting ready for competing this year, are Zia (handled by Julie), Pepper (handled by Saffron) & Alfie (handled by Jim). We look forward to watching them in the ring very soon.
If you have any further enquiries please don't hesitate to contact us,
ring or text Julie on 07541 987833.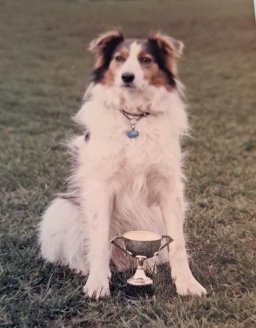 Pictured, is Julie's most successful dog, Cindy, who took her to crufts on multiple occasions.
Julie earned the title of Obedience Champion - Cindy From Frobishire.
Julie also had another Obedience Champion - BartonView Morning Blizzard.
The link below records Julie's success with her dogs.
https://obediencefactsandfigures.weebly.com/crufts.html